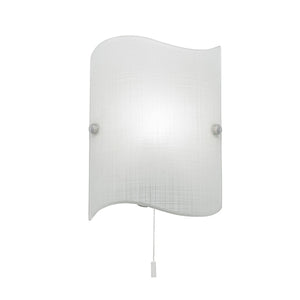 Illuminate your space with the Opal Glass Wall Light, featuring a stylish pull cord switch for easy control. The uniquely shaped opal glass diffuser creates a soft and inviting light suitable for various settings, offering both coziness and functionality. The pull cord switch provides convenient adjustment, eliminating the need for a separate switch.
Not only stylish and functional, but this wall light is also energy-efficient and compatible with LED lamps, promoting energy savings and environmental responsibility. Additionally, it's dimmable, allowing you to customize the light level to your preferences.
With its white patterned waved-shaped glass, front-fixing chrome-plated screws, and white painted back plate, this wall light presents a clean and sophisticated aesthetic. Perfect for bedrooms, hallways, or any space where a blend of form and function is essential in lighting fixtures.
Elevate your home's lighting ambiance with the Opal Glass Wall Light—a versatile and practical addition to enhance your interior décor.
Overview:
Light Bulb: 60W E14 golf (bulb not included)
Dimensions: Projection: 90mm Height: 210mm Width: 155mm
Class 1, 2 or 3: 1
Warranty: 2 Years
Weight: 0.5 Kg