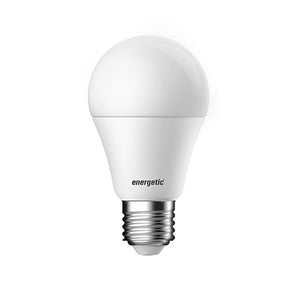 The A60 E27 Frost LED Dimmable Lamp with 1055 lumens from the CLICK® Litehouse Energetic LED range is an excellent choice for both residential and light commercial applications. Here's a concise summary of its key features:
Key Features:
Dimmable Capability: Allows for brightness adjustment to suit various lighting preferences and moods.

High Lumen Output: Provides a bright light with 1055 lumens, ensuring ample illumination for the space.

Frosted Design: The frosted glass design diffuses light evenly, creating a pleasant and comfortable lighting environment.

Versatile Base: Equipped with an E27 base, a widely used fitting, ensuring easy installation and compatibility.
Upgrade your lighting with the A60 E27 Frost LED Dimmable Lamp, experiencing its dimmable functionality and bright, diffused lighting suitable for a wide range of applications, from general to decorative lighting in residential and light commercial spaces.
Overview:
Wattage: 9.2W
Equivalent: 75W
Energy Rating: A+
Lumens: 1055lm
Cap: E27
Beam Angle: 240
Colour: Warm White
Colour Temperature: 2700K
Voltage: 220-240V
Lifetime (hrs): 15000
Length: 109mm